14 Sep 2018
Official Hologram Tour soundtrack, featuring legendary Callas recordings, released 14 September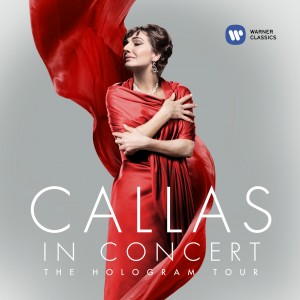 'I don't know what happens to me on stage. Something else seems to take over.' –Maria Callas

A new generation of opera lovers can experience the larger-than-life diva Maria Callas perform live in a worldwide concert tour, in the form of a three-dimensional hologram. BASE Hologram has captured Callas at the height of her powers with innovative technology and finely-honed stagecraft for a unique and compelling show: Callas in Concert — The Hologram Tour.

BASE Hologram has partnered with Warner Classics, the sole guardian of La Divina's recorded legacy, to curate the official soundtrack and playlist of the tour. The Callas in Concert album mirrors the program and encores of the stage show, with her original iconic recordings, re-mastered in 24-bit/96kHz sound at Abbey Road Studios. (For The Hologram Tour, a team of highly experienced sound engineers isolated the voice of Callas so that her hologram incarnation could once again take the stage with a live orchestra.) The recital includes many of the arias in which she proved her prowess on stage and in the studio, and in which she remains unrivalled today: Bellini's Casta Diva, Puccini's Vissi d'Arte, Bizet's L'Amour est un oiseau rebelle, among others.